Hi, everyone

. You can call me pairs. I am a guy who are talkative in the ChatBox, but quiet in the reality. I like role playing and talking nonsense. Don't hesitate to chat with me in the ChatBox!!! But please don't laugh

at me if I make serious grammatical mistakes. (My mother language is not English!!!) By the way, I am a timid person

. Please don't post somethings frightening like the post 'Bong chong dong ghost'. It gave me nightmares......


I join here because of Doc & Owl. I play pokemon games and PO because of Mil. What is Mil? Mil is the pokemon I love most.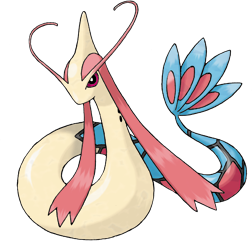 My favourite moveset:
Maximum HP and special defense
Nature:Bold
Item:Flame Orb
Scald
Ice beam
Toxic
Recover
It is the most charming and beautiful pokemon, isn't it?
(Don't say

please)